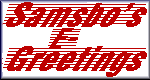 All types of Greeting's From Santa to Wrestling, you will find it here. So go ahead try it out click the send button to see a list and enjoy.

Send a free greetings card to someone you love. You can send greetings to anyone with over 200 occasions.

View your cards. You can view the card that has been sent to you by entering the Card Number. The Card Number is in the email message you have received. Just click the View link.
Sign My GuestBook